At TMC15, the NCTM made a major announcement that they were joining forces with The Math Forum. Read all about it here!
————–
TwitterMathCamp 2013 has come and gone. We grew to 107 teachers from 3 countries (England was represented in 2013!)
————-
In 2012, 37 math teachers from 19 states and 3 countries met in St. Louis, MO to build relationships and create their own professional development strategies.
This site was born out of that effort, and continues to house ideas from that wonderful event.
We also received some press coverage both before and after the event from Education Week.
If you are looking for a great place to start connecting online with other Math Professionals, start with the "Welcome to the MathTwitterBlogosphere" website.
The Global Math Department is an initiative that was also born out of Twitter Math Camp. Reaching out to teachers beyond our classrooms and buildings to create a community of teacher sharing. As the motto says, "Professional Development for us, by us."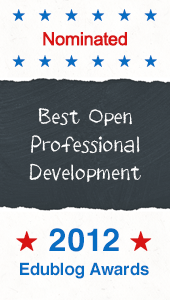 We were nominated for the Edublog Awards for Best Open PD (thanks Megan and Sam!). We finished in the top 5.
TwitterMathCamp was mentioned in the US. Department of Educations "Teaching Matters" newsletter on 28 March 2013! Scroll down to the 'Teachers' Notes' section.